MARU TARANG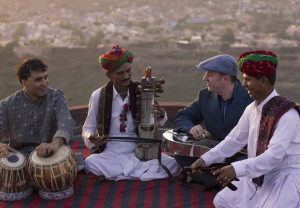 Deep in the deserts of Rajasthan, Australian artists Jeff Lang & Bobby Singh met Asin Langa & Bhungar Manganiyar.
Spanning continents and genres, a remarkable collaboration commenced – Maru Tarang. A virtuosic repertoire including ancient Rajasthani songs refreshed by Australian roots; seminal blues by Robert Johnson enriched by Indian flavours; soulful expressions through deep, original and fiery improvisations and compositions…
These artists have developed their music to be all they need to converse, sans a common language… and the conversation is stunningly eloquent.
Jeff Lang: Guitars & Vocals
Asin Langa: Sindhi Sarangi & Vocals
Bobby Singh: Tabla
Bhungar Manganiyar: Khartal